Today's Events: 01/27/2020
2019-20 Legislative Session
The next Senate Floor Session will convene on Monday, January 27, 2020 at 2:00 p.m.
Regular Session: 2:00 p.m.
JOINT HEARING
SENATE NATURAL RESOURCES AND WATER AND ASSEMBLY NATURAL RESOURCES: 3:30 p.m. or upon Call of the Chair
Message from the Senate President pro Tempore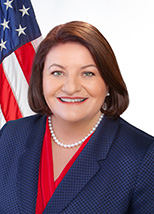 Welcome to the website of the California Senate. Here, you can find everything you need to stay informed and engaged in the legislation being considered in our house – legislative calendars, details on policy committees, helpful resources, live-streamed and archived videos, information on each of the Senators who represent the state's 40 districts and how to contact us, and more. Thank you for participating and helping us improve California for everyone who lives here.
Toni G. Atkins
Senate President pro Tempore