Today's Events: 05/28/2020
2019-20 Legislative Session
The next Senate Floor Session will convene upon call of the President pro Tempore
Regular Session: Check-in Session - 9:00 a.m.
GOVERNANCE AND FINANCE: 8:30 a.m.
BUDGET AND FISCAL REVIEW: Upon adjournment of Governance and Finance Committee
Message from the Senate President pro Tempore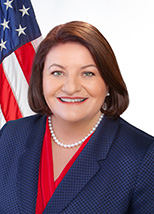 The Senate is actively working to address issues in our communities and meet the needs of our constituents related to the COVID-19 health crisis. Our number one priority is flattening the curve of Coronavirus, which is why Senators made the decision to return to our districts and do the People's work on the ground and in the communities. We encourage you to follow federal, state, and local public health guidelines to safeguard against the virus, and contact your Senator's office with any issues or concerns. Thank you for helping us improve California for everyone who lives here.
Toni G. Atkins
Senate President pro Tempore